Is Executive Coaching Right for You & Your Most Talented People?
Leadership is a catalyst for the evolution of the enterprise and its people. A leader envisions a new future and draws out untapped potential to make it happen. As a result, people do things they didn't consider possible.
Germane Coaching & Consulting works with the gems of the organization who seek continuous growth. Our clients are:
Successful, progressive achievers with significant organizational responsibility
Willing to review actions openly and honestly, explore their effect on others, and their impact on the company
Open to new perspectives that lead to more effective actions and better results
As an executive coach, Dr. Anne Perschel begins by working with you to deepen your self-knowledge. In the words of a client who was rapidly promoted from key individual contributor to Corporate Vice President and General Manager:
Anne is uniquely qualified to coach the whole person. She helps leaders expand their skills and, even more importantly she takes you to the heart of who you are as a person and as a leader. With Anne's help, you resolve what's standing between you and the greatest leader you can be.
Dan McNamara
What you can expect from your executive coaching engagement, when working with Anne as your coach:
A highly confidential relationship
An introductory meeting to assess personal and professional fit
Inclusion of your sponsor to ensure investment in and support of your development
An in-depth leadership assessment and review that typically includes:

An in-depth interview with you
Standardized leadership 360 survey
Confidential interviews with key stakeholders
Personality assessment to identify natural strengths and potential derailers

Development goals and a plan to achieve them
Behavior change techniques based on sound psychological and neuropsychological research
Increased access to deepened insight, intuitive thinking and inner wisdom
Ongoing feedback from key constituents
A final 360 assessment to review progress and further recommendations
A long term relationship with Anne as your confidant and advisor after the formal coaching engagement ends
Germane Coaching & Consulting's coaching programs are designed to enhance the performance of up and coming talent; managers transitioning to more senior roles, senior leaders and new executives. Small group and team coaching is also available.
Are you ready to achieve success, fulfillment and joy? Why wait? Contact us now.
Let's start talking.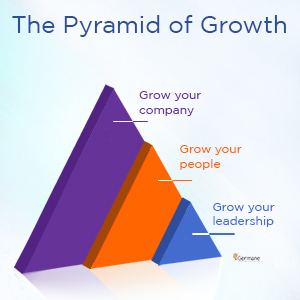 Leadership Assessment
Find the strengths of your executives with a 360 leadership assessment.
Start Today