Germane Coaching & Consulting & Consulting delivers customized workshops and speaking engagements, designed to match your organization's learning needs.
Organization development and change is a constant in a continually changing business environment. To keep up with these changes, employees, managers, and leaders need to be in continuous learning mode. We work closely with you to determine:
WHAT outcomes you want to achieve
WHERE you're starting point is
HOW things work in your culture
Germane Coaching & Consulting Interactive Workshops:
Because people learn best by being actively engaged, we introduce new ideas, models, theories and practices, then follow up with:
In class exercises that actively engage participants in their own learning
Follow up actions and experiments, with accountability plans, so participants apply what they've learned in the workplace
Facilitated reviews of follow up actions and outcomes to solidify learning
We collaborate with you and your team throughout the process to ensure the workshop we deliver, delivers the results you need.
Custom Client Workshop Examples
Germane Coaching & Consulting & Consulting's customized client workshops have included:
An Introduction to Emotional Intelligence - for a high-tech company that was transforming its sales approach.
How to Be an Inspirational Leader - for an organization whose Leadership 360s demonstrated a system wide weakness in this area.
7 Plays for Winning the Women's Market - for professional service firms seeking to expand their market share of women-led and women-owned businesses.
Leading Change - for leaders and managers
Story Telling for Leaders - for change leaders and those seeking to communicate a compelling vision
Most workshops can be delivered live or on-line.
I walked into Anne Persche's presentation just to 'wait it out' until it was time for the final speaker. I was, frankly, mesmerized by Anne's talk. The 'hook', for me, was the question, 'Who was the person that took away your confidence?"
Mary DeFeudis
Don't see what you're looking for? We've got something, or can design something, that meets your needs.
Let's talk.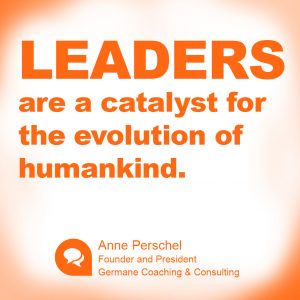 Leadership Assessment
Find the strengths of your executives with a 360 leadership assessment.
Start Today